Not sure if I am experiencing a bug, or incomplete feature.
Environment Information
Avogadro version: 1.91.0
Operating system and version: Windows 11
I need to take a single monomer and duplicate it with many unit cells to create a "block" of uniform Nylon 6,6 strands. (pictured below)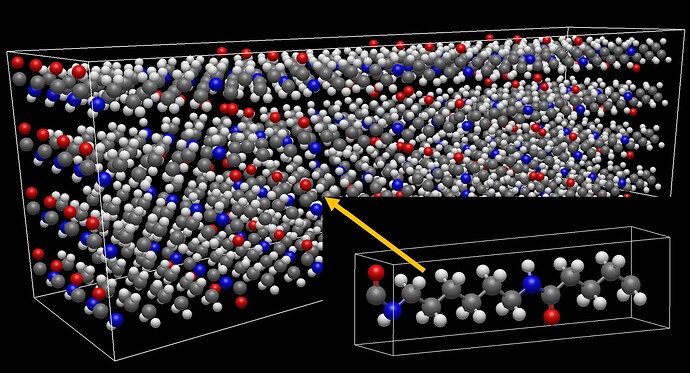 When I use the "Build Supercell" feature, it creates a proper supercell (example pictured above), but fails to keep the bonds of the original. Going to "Build>Bond>Bond Atoms" would theoretically solve this, but it makes only single bonds, and the oxygen has a double-bond. This is fine to correct manually for a small supercell, but I need to make very large ones. I'm kind of stuck on what to do, because if the double-bond and other bonds were preserved, using "Build>Bond>Bond Atoms" would be okay since it will only need to create single carbon-carbon bonds.
Not sure how to proceed, or if there is a setting/tool/feature I missed?
Any advice is appreciated.