I am a chemistry student and a fan of avogadro. Thank you for creating this very useful software.
For the last 2 months or so, avogadro 1.2 has suddenly stopped recognizing atoms. As an example, I have attached a figure of a molecule (S-BINAP) that I loaded and tried to select all the atoms using the selection tool. In this case, atoms should also be highlighted in light blue, but as you can see, only bonds are highlighted in light blue. It seems that the atoms are not recognized. I have examined various file formats, but have not been able to improve the situation.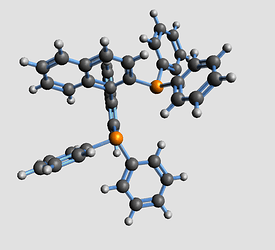 I am using avogadro 1.2 in windows 11 environment. Similarly, my friend who is using avogadro1.2 on windows 11 seems to be working fine. So it is probably not a bug but my personal problem.
What could be the cause in this case? Any advice would be appreciated.
Environment Information
Avogadro version:1.2.0
Operating system and version:Windows 11 Home 22H2