Environment Information
Avogadro version: 1.2.0
Operating system and version: Windows Version 10.0.19044.1706
Expected Behavior
I have just started using ORCA and was following a YouTube tutorial series by Dr. S. Kishor.
I'm using ORCA 5.0.3 on windows 10 with an i5 9400 processor and 500 GB A2000 Kingston RAM. In the 16th video of the series, I was introduced to IR frequencies calculation with geometry optimization with the input given at last.
The vibrational toolbar should open if I open the output file (.out) using Avogadro.
Actual Behavior
Now, when I'm opening the output file (.out) using Avogadro 1.2.0 (after installing the enhanced ORCA version), the molecule is loading, but the frequencies are not loading. I checked the output file(provided at last), and they were there but were not coming in Avogadro (should render automatically while opening the output file. I opened the Vibration toolbar from the settings of Avogadro to find they were not loaded. The screenshot of the Avogadro window with no loading of vibrational frequencies is given below -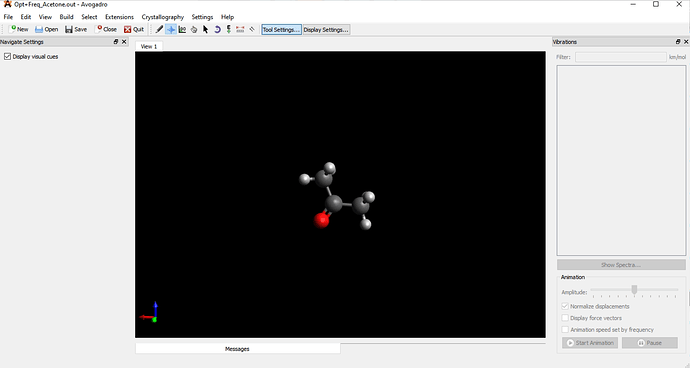 Additional Action
I found a discussion in the ORCA forum about OfakeG, which can convert the ORCA output file into a Gaussian output file and I used that to covert as I have institutional access to Gaussian and GaussView. I followed the documentation but I was unable to convert the file type. I got an error saying the application couldn't find the file.
Enclosed Files
Requirement
Can anyone help me to view the IR frequencies generated from ORCA in Avogadro or other software?